Overview
M.A.D. DADS stands for: Men Against Destruction, Defending Against Drugs and Social disorder. M.A.D. DADS is a non-profit (501) (C-3) organization which began in 1989 in Omaha Nebraska and has more than 25 chapters in 15 states. Although started by a group of African American men,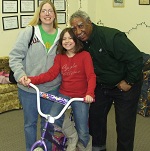 today the organization includes men and women representing all social, economic, and geographic cultures.
M.A.D. DADS began in Lincoln, Nebraska in April 1993 with 25 members and has grown to over 1400. The president of the M.A.D. DADS Lincoln, Nebraska chapter is The Reverend Don Coleman. M.A.D. DADS is a multi-ethnic organization and welcomes Real men and women of all cultures. M.A.D. DADS
promotes men and women coming together as a unit, organizing our neighborhoods, becoming more active and visible in our homes and communities, and being good examples and REAL role models for our children.
Our goal is to mobilize the city, trying to eliminate violence, drug use, and gang activity, from one house to the next. We will raise the level of public awareness to strengthen and rebuild the family unit while addressing community apathy regarding crime and violence. M.A.D. DADS will work with any church, organization, agency, or group who are concerned about making a better future for our young people and community.
Mission
The mission of M.A.D. DADS is to bring about positive change by seeking out, encouraging, motivating, and guiding committed people in the struggle to save children, communities and themselves from the
social ills that plague neighborhoods. MAD DADS employs strategies that engage men and women in the intervention and prevention of community problems.
Products Services
Our operations, partly funded through bike sales and tune-ups, allows MADDADS to donate hundreds of bikes to children annually through our various programs. You can find a lot of our inventory on craigslist , this website (coming soon), or by stopping by and seeing us. We have everything from beginner bikes to professional road bikes and stylish rides for both adults and children.
Every bike that comes through our shop receives a thorough refurbishing. We also offer guaranteed tune-ups for just $50 plus parts. Tune-ups include checking and greasing of bearings, and adjustment of brakes and gears. Bring your bike in and let our capable shop guys adjust and grease your ride. It will make a big difference in the performance of your bike.
Our Programs
Bike Program
The signature program for the Lincoln chapter of M.A.D. DADS is our bicycle program. We rebuild and refurbish used bicycles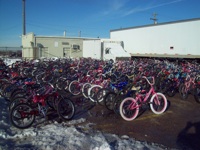 for an average cost of $30.00. These bicycles are then donated to children attending Lincoln schools, grades 5 through 9.
We also donate bicycles to special needs persons, the People's City Mission, children of Nebraska military families, the Lincoln Indian Center
children, Winnebago, Santee, and Omaha children, Matt Talbot families, Friendship Home patrons, and other organizations.
Since our first donation in 1995, we have donated over 7,000 bicycles to those in need throughout the state of Nebraska.
In addition to giving bikes away throughout the year, M.A.D. DADS has a bike program specifically for Christmas. Each year 5th graders from 10 Lincoln schools (public and private) are asked if they are in need of a bicycle. Students who desire a bicycle are put on our list to receive one for Christmas. We have donated over three thousand bicycles for the Christmas program.
Juveniles Against Illegal Lifestyles (J.A.I.L.)
This voluntary program will consist of 6th through 10th grade students who have been charged with a misdemeanor or ordinance violation by a police officer, parent, school
official, church member, or concerned citizen. This program is designed to show young people an alternative to crime by promoting positive lifestyles.
Genuine Individuals Reaching Levels of Success (G.I.R.L.S.)
Girls, 6th through 10th grade who come together helping each other with motivation, self-esteem, and discovering self-worth. Professional women on our Board of
Directors will instruct the girls on grooming, personal hygiene, and the negative effects of drugs, alcohol and tobacco.
Our Colors
Black
Symbolic of unity, togetherness and support, bringing all of us together as one.
Green
Symbolic of life, growth, living, hope and our faith in God and our future.
White
Symbolic of the purity and gentleness of our children and their souls, for the kindness and morals instilled upon them to love all creatures, large and small, on our great earth.